SC2
Optical manufacturing and optical metrology
New program
Level: Specialized
Audience:
Engineer or advanced technician willing to work with opticians in the field of optical manufacturing
Prerequisites:
Basic knowledge in optics
Language of the training: French
Maximum capacity: 12
Price: 1380 € HT -
Objectives
Discover the steps of optical components manufacturing
Learn the control techniques of optical components
Integrate notions of quality monitoring

Check the sessions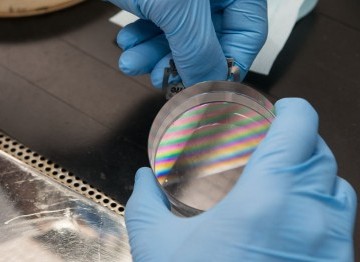 Optical component manufacturing processes
Metrology of optical components
Manufacturing methods
Machining, mechanisms lapping and polishing.
Standard processes for spheres and planes. Industrial production equipment.
Principles and implementation of computer assisted polishing.
Special processes and ion milling.
Means of manufacture inspired by mechanics: machining diamond tool
Micro-grinding - Examples of applications
CN Manufacturing equipment: Roughing - Fining - Polishing - Edging
Polishing by magneto-rheological and application to the manufacture of aspherical surfaces
Optical Control
Controls with caliber and interferometer, dimensional metrology
Wavefronts analyser: Hartmann, Hartmann-Shack, Hartmann modified lateral shift interferometry
Interferometric measurements (Zygo)
Awareness of quality procedures and standards
Quality concept and approach: quality objectives and indicators
Risk management, problem solving method, role of quality documentation.
Introduction to quality standards and certification procedures.
Methodology and assessment
General lectures
Tutorials
Optical workshop visit
Next session: date to be defined
February 13, 2019 to February 15, 2019

SC2 | Optical manufacturing and optical metrology

Palaiseau
Pedagogical manager(s):
Sébastien De Rossi - Professor at Institut d'Optique