EF6
Métrologie visuelle : l'œil et les instruments optiques
New training
Level: Basic
Audience:
Ingénieurs ou techniciens devant effectuer des mesures optiques visuelles
Prerequisites:
Des notions correspondant au stage EF1 - L'optique sans calcul seront utiles
Language of the training: French
Maximum capacity: 12
Price: 1160 € HT -
Objectives
Maîtriser les principes, les méthodes et les instruments associés aux mesures visuelles
Check the sessions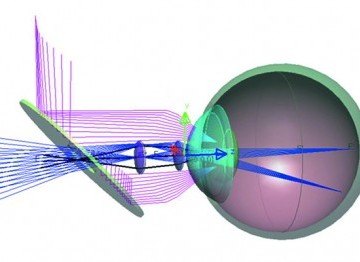 Optique instrumentale
Optique ophtalmique
Expérimentations sur bancs, microscopes et lunettes
Rappels sur l'optique géométrique et les aberrations
Propriétés optiques de l'œil
Performances, limitations
Les divers instruments visuels
Oculaires, lunettes, viseurs (objectifs)
Choix et mise en œuvre d'un instrument visuel
Optimisation de la résolution et de la profondeur de champ
Etude des incertitudes de mesures
Travaux pratiques :
Mise en œuvre d'un goniomètre (mesures d'angles et d'indices)
Mesures de distances focales et de frayons de courbures.
Mise en oeuvre d'un microscope et d'une lunette afocale
Performances, limitations
Methodology and assessment
Cours et exercices d'application. Nombreux exemples.
Démonstrations sur matériel de laboratoire, selon souhaits des stagiaires
Mesures sur instruments
Quizz, QCM ou TD en fin de formation
Session dates: please contact us
Pedagogical manager(s):
Lionel Jacubowiez - Senior teacher at Institut d'Optique