OP2
Session 2 - OPTRO2016: Design of infrared systems / Applications in electro-optics
Nouvelle formation
Niveau : Débutant/Intermédiaire
Publics :
Engineers, scientists or students, users or designers
who feel the need for a better understanding of the inside working parameters and specifications of infrared systems
interested in applications related to electro-optical systems, their constraints and performance
Langue de la formation : Anglais
Capacité maximum : 20
Prix : 550 € HT -
En partenariat avec

Objectifs
Understand the fundamental aspects of infrared systems design.
Discover some applications of electro-optical systems (autonomous navigation of minidrones, and atmospheric lidars), their performance and the underlying systems constraints
TO REGISTER, YOU CAN USE THE FORMS BELOW OR SEND AN E-MAIL DIRECTLY TO FC@INSTITUTOPTIQUE.FR, WITH YOUR NAME, COMPANY, AND CHOSEN SESSION.
Please precise in the registration form if you are a 3AF, SFO or EPIC Member to benefit of the special member fees.
Voir les sessions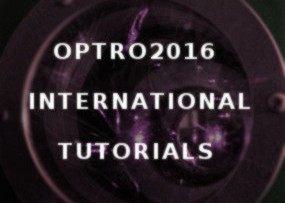 Electro-optical systems, infrared detectors
Embedded vision, vision-based navigation, mini drones (or MAV)
Atmospheric lidars, lidar technologies and applications
Fundamentals in the design of infrared systems - Room1: 9h00-12h15
Isabelle Ribet, Associate Professor at Institut d'Optique Graduate School, Palaiseau, France
Main optical constituents of an infrared system: infrared scene, atmosphere, optics, detector
Basic rules in infrared system design, using criteria such as NETD (noise equivalent temperature difference, MRTD (minimum resolvable temperature difference) …
Embedded vision for autonomous navigation of mini drones - Room2: 14h00-15h30
Guy Le Besnerais, Senior Scientist at Onera, Palaiseau, France
Major results and actual trends of embedded vision
Vision-based navigation of drones in unknown and cluttered environment
Indoor and outdoor autonomous flight video demonstration
Atmospheric lidar - Room2: 15h45-17h15
Laurent Lombard, Senior Scientist at Onera, Palaiseau, France
Lidars or laser radars are increasingly used in the study of atmosphere or for aircraft safety. This tutorial is an introduction to lidar technologies and their applications.
Overview of various Lidar technologies and configurations for atmospheric applications: coherent and incoherent lidars, elastic and inelastic lidars, differential absorption (DIAL) lidars,...
a few examples of atmospheric lidar applications: analysis of aerosols, CO2 monitoring, wind profilers, turbulence monitoring,...
Méthodologie et évaluation
Lectures
Prochaine session : date à définir
01 Février 2016 au 01 Février 2016

OP2 | Session 2 - OPTRO2016: Design of infrared systems / Applications in electro-optics

OCDE, Paris
Responsable(s) pédagogique(s) :
Isabelle Ribet - Experte Onera, professeure associée à l'Institut d'Optique
Laurent Lombard - Senior Scientist at Onera, Palaiseau, France