OP1
Session 1 - OPTRO2016: Design of infrared systems / Quantum IR imaging
Nouvelle formation
Niveau : Débutant/Intermédiaire
Publics :
Engineers and scientists, users or designers of infrared systems who feel the need for a better understanding of the inside working parameters and specifications
Engineers and scientists whishing to understand the functioning of IR FPAs in order to optimize the use and/or the optical design around the IR retina
Langue de la formation : Anglais
Capacité maximum : 20
Prix : 550 € HT -
En partenariat avec

Objectifs
Understand the fundamental aspects of infrared systems design.
Understand the quantum IR imaging issues both from a performance and technological point of view.
TO REGISTER, YOU CAN USE THE FORMS BELOW OR SEND AN E-MAIL DIRECTLY TO FC@INSTITUTOPTIQUE.FR, WITH YOUR NAME, COMPANY, AND CHOSEN SESSION.
Please precise in the registration form if you are a 3AF, SFO or EPIC Member to benefit of the special member fees.
Voir les sessions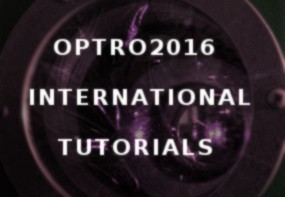 Electro-optical systems, infrared detectors
Quantum detection, photodiodes
Fundamentals in the design of infrared systems - Room1: 9h00-12h15
Isabelle Ribet, Associate Professor at Institut d'Optique Graduate School, Palaiseau, France
Main optical constituents of an infrared system: infrared scene, atmosphere, optics, detector
Basic rules in infrared system design, using criteria such as NETD (noise equivalent temperature difference, MRTD (minimum resolvable temperature difference) …
A wide introduction to quantum IR imaging - Room1: 14h00-17h15
Olivier Gravrand, Senior Scientist at CEA LETI IR Group, Grenoble, France
Large overview of detection structures usually used for quantum detection (from PC to PV)
A special focus on the photodiode
Evolution of IR detection structures (1st and 2nd generation)
Expected future generation of IR focal plane arrays
Méthodologie et évaluation
Lectures
Prochaine session : date à définir
01 Février 2016 au 01 Février 2016

OP1 | Session 1 - OPTRO2016: Design of infrared systems / Quantum IR imaging

OCDE, Paris
Responsable(s) pédagogique(s) :
Isabelle Ribet - Experte Onera, professeure associée à l'Institut d'Optique
Olivier Gravrand - Senior Scientist at CEA LETI IR Group, Grenoble, France